Four Indie Music Artists Setting The Stage On Fire Right Now!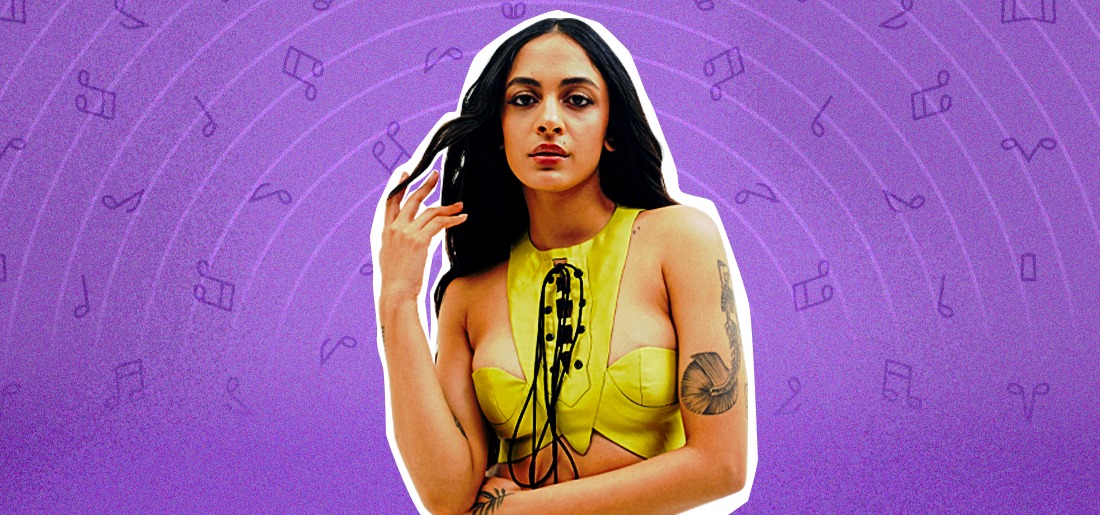 On a rainy evening at Mumbai's G5A "black box" performance venue, Kavya Trehan, (stage name stylised as KAVYA), is surrounded by an extensive set of loopers, synthesisers, electronic drums and keys. The indie artist is performing songs from her 2021 EP Know Me Better: Her lilting voice casts a spell aided by her outfit of couture saree-pants. KAVYA put on an audio-visual spectacle nothing like I'd witnessed before, in my decade of attending indie gigs and festivals. Her vocals channelled pop and RnB, while the graceful dance moves employed her pallu as a show-and-tell piece of the performance.
In some ways, KAVYA's tour reminded me of the indie rebelliousness and excitement of the late aughts and early 2010s from the independent music industry. Frequent sights included frontwomen dancing with abandon, heavy music moshpits, surprise sets from cult bands, and a thriving online subculture dedicated to these acts. Albums were talked up, exclusive indie music web-stores existed, and venues were filled to the brim on weekdays by people rooting for their favourite band. It's a subculture I sorely miss.?
Cut to 2023 and singles from one-off singer-songwriters compete for space on editorial playlists of streaming services. A homogenous sound seems to rule the internet – the same five songs recycled across thousands of reels – and live gigs have lost the sense of community of a decade before.
However, some bright beacons of indie valour prevail in 2023, breaking these moulds. Beyond the plated and served options on your music app, true indie pioneers are surely, but slowly, reclaiming big stages and earning a faithful band of followers. Here are a few indie music artists you must know about.
Jump To
Parimal Shais
Kerala music producer Parimal Shais's first album, Kumari Kandam Traps, Vol. I was heavy on Dravidian voices and samples. Shais' tracks – which have over 1.2 lakh listeners on Spotify – are usually accompanied by high-production music videos on par with global hip-hop visuals. Shais has teamed up with Lendrick Kumar, Indie's blue-eyed-boy filmmaker, who is the man behind the camera for the former's new video single "Ayyayyo" which also features rappers Hanumankind, ThirumaLi, and MC Couper.?
Shais' father was an audio engineer, exposing him to sounds at a young age. Today with one of the most unique discographies in the subcontinent – Malayalam-English hip-hop hits "Saadhanam Kayyil Undo?" with MC Couper, "S.L.A.B" with Hanumankind, and "Superstar" with Killa K – Shais strives for precision in the production process.?
For the Boiler Room alumni, the rapper-producer dynamic is the backbone of hip-hop. "Bringing a song to life requires the foundation beat created by the producer while the rapper adds lyrics and flow," Shais explained. There's a Tamil influence to look out for in his upcoming work and a sampling of the nadaswaram (a double reed wind instrument used in many South Indian forms of music) as he used in "Go to Sleep".
Parimal Shais performs at Playboy Beer Garden, Gurgaon in Delhi-NCR on September 16, 2023. Tickets here.
Mali
Maalavika Manoj, the Chennai-born, Mumbai-based singer-songwriter who goes by the stage name Mali, met with Apple CEO Tim Cook during his India visit and took him through her songwriting and demoing process. Mali's subtle strength is her understated pop cinched together with the unassuming storytelling of her music videos. With over 80K followers across Spotify and Instagram, the artist said she's as inspired by the visual world as by music. "It's just another way to put on a show for our audiences," she added.?
Since her 2021 album Caution to the Wind her music retains an underlying synth-pop element. However, the "Mango Showers" songstress stays true to the indie ethos, which means avoiding painting all of one's music with the same palette of colours. While her latest single "Walk Away" is an instrument-heavy ballad, her previous track "Ashes" wove in an acoustic approach.?
In 2020, in the lead-up to her album release, Mali dropped the politically fringed single "Absolute", a covert hint at the injustices of the powers that be. The track's video, however, didn't lean into its political themes. She told me that she doesn't know if she can ever write another song like that, which addressed how powerless we felt during the pandemic. A judicious choice, as the composition's true meaning was reserved for those who could read between the lines.?
Mali performs at SPXCEJAM Festival in Mumbai on November 4-5, 2023. Tickets here.
Kayan
RnB-inspired pop maker Kayan – Ambika Nayak, who flipped her surname for her artist pseudonym – sets the bar very high for herself. Her live show at the Mumbai edition of the international music festival Lollapalooza earlier this year was replete with a couture chainmail bodysuit, backup dancers, and custom visuals. "This is just the start of what I'm able to do with my resources currently. I want the audience to have something that they will not forget when they go home," explained the Mumbai-based artist who sold out her recent Kayan Vision DJ tour across 11 cities with hundreds of attendees per gig and just performed at a South Korean music festival. Eventually, the 26-year-old artist would like to have a huge band with a horn section, backing vocalists and a huge dance crew.
Kayan has over 1.9 lakh followers on Instagram and looks at her multi-hyphenate accomplishments as building a brand. The young model, DJ, voice-over artist, actor and music producer accepts that the hustle can be tiring, but maintains that this is a healthy target she's set for herself, almost likening it to the rewarding pressure of eustress.?
Her solo artist avatar came about during the Covid-19 lockdown when she self-produced her debut solo song "Please" (2020). Kayan called the bass employed in the track the "wob wob bass" for its fat, deep sound "like a bass crying almost" which was inspired by neo-soul rap artist Tyler, the Creator. With her soul and RnB sensibilities, she would like to see herself collaborate someday with Canadian powerhouse producer and DJ Kaytranada, whom she credited with inspiring her own DJing journey. Recently, she got the chance to step into the studio with Indian-origin British artist Jay Sean. They're keeping the details of the recording under wraps for now but it's a move toward her dream collaborations.?
Kayan performs at the YouTube Fan Fest in Mumbai on September 27, 2023. Tickets here.
KAVYA
The art-centric project of Delhi-based artist KAVYA (Kavya Trehan) is an audio-visual effort: The songwriter and model said that she always writes music to an internal film running in her mind.?
The 30-year-old artist has over 70K followers on Instagram. Her acting stints enabled her to understand emotions and reactions better while modelling opened up her love of fashion and its key role during her performances. And it was directing music for TV commercials and short films that provided her with a platform to build a portfolio of collaborations.
"Each song has a character, a costume, and the ability to shapeshift," said the artist whose music moves from indie-soul with an art-pop treatment. KAVYA has collaborated with edIT, one-half of American electronic act?The Glitch Mob, as well as Delhi producer?Anhad Khanna, and aspires to work with British producer James Blake one day.