Man Sleeps In A Makeshift Hammock In Train, His Inexpensive Jugaad Becomes An Instant Hit!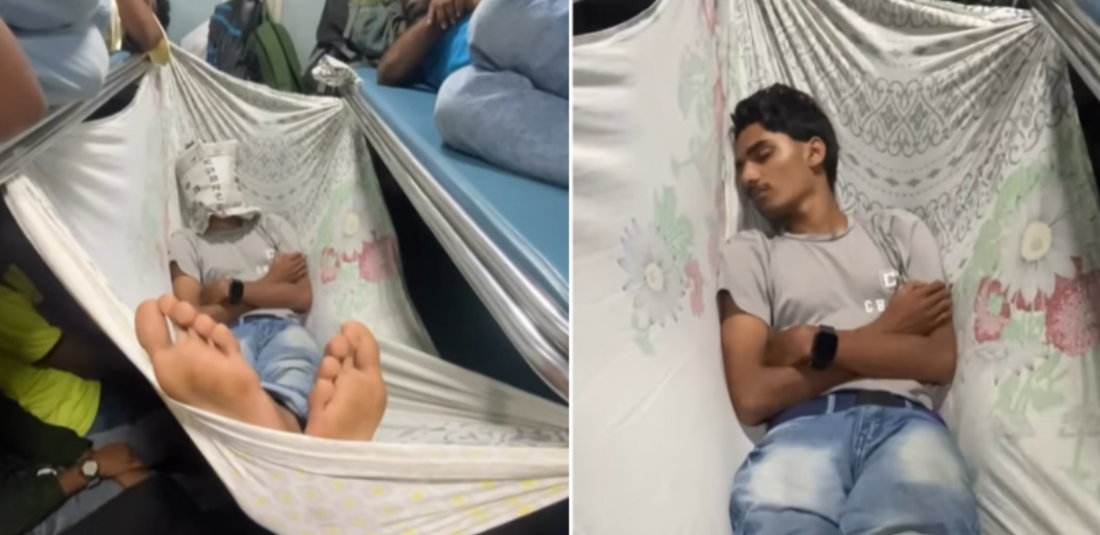 Travelling in overcrowded?trains may be an unpleasant experience, with passengers battling for space in cramped coaches. However, a new viral video released by Hathim Ismayil on Instagram has piqued the interest of social media users for all the right reasons.?
Jump To
How did this man manage to sleep on a crowded train?
The video shows a clever traveller who developed a novel technique to make room for himself and sleep in a crowded railway coach. In the video, a young man can be seen resting happily on a makeshift hammock made from a bedsheet, which he anchored on all four sides by the coach's top sleepers.
This unique method of seeking pleasure in the middle of mayhem has delighted social media users, and the clip has had over 9,00,000 views on Instagram since it was posted on August 26.?
The video opens with a typical sight inside a crowded Indian local train, with individuals struggling to find a comfortable space to sleep or sit. The focus suddenly turns to a man who appears to be having the most pleasant slumber of his life.

"A local trip," the user who shared the video commented, while Anirudh Ravichander's song 'Hukum' from Rajnikanth's recent film Jailer?plays in the background.
Social media fans were enthralled by the inventive homemade hammock idea and shared their amusing reactions to the video. A user commented on the video saying, "He trusts his bed sheet more than the train."?
"I want to be that special kid in the hanging blanket," wrote another. "First class travel on a local train," one commenter wrote. "Isn't there anyone there to sing him a lullaby?" another joked. Another commented, "Bro used 200% of his brain."?

When did it happen before this?
Several videos have surfaced online in the past depicting people using jugaad to make their lives simpler, much like this man. A video showing a man using a makeshift seat for himself on a crowded train had previously gone viral.
Because the railway cars appeared to be entirely packed, he wisely decided to build a temporary hammock for himself out of the bedsheet. The man in the video fastened one end of the bedsheet to a luggage holder and the other to the upper bunk seat.?
He then got into the hammock with ease, and astounded fellow passengers and social media followers with his ingenuity.?
What do you think about this? Tell us in the comments.
For more trending stories, follow us on?Telegram.?